2019 revenue up 10.3% for theranostics and up 6.4% for IVD
Continued improvement in operating income and net income before non-recurring items
Positive net income partly driven by non-recurring instrumentation sales. Profits reinvested in development in strategic regions focusing on the United States
Cash position: €2.9 million
Exposure to Covid-19: business continuity plan defined and implemented
Theradiag will hold a conference call (in French only) at 10am on Thursday, March 19, to present its full-year results
To take part, please dial +33 1 70 71 01 59 followed by participant PIN code 14 39 06 69 #
Croissy-Beaubourg, March 18, 2020 – 5:45pm CET – THERADIAG (ISIN: FR0004197747, Ticker: ALTER), a company specialized in in vitro diagnostics and theranostics, today presents its full-year results for the financial year ended on December 31, 2019 approved by the Board of Directors on March 17, 2020. 
Full-year 2019 results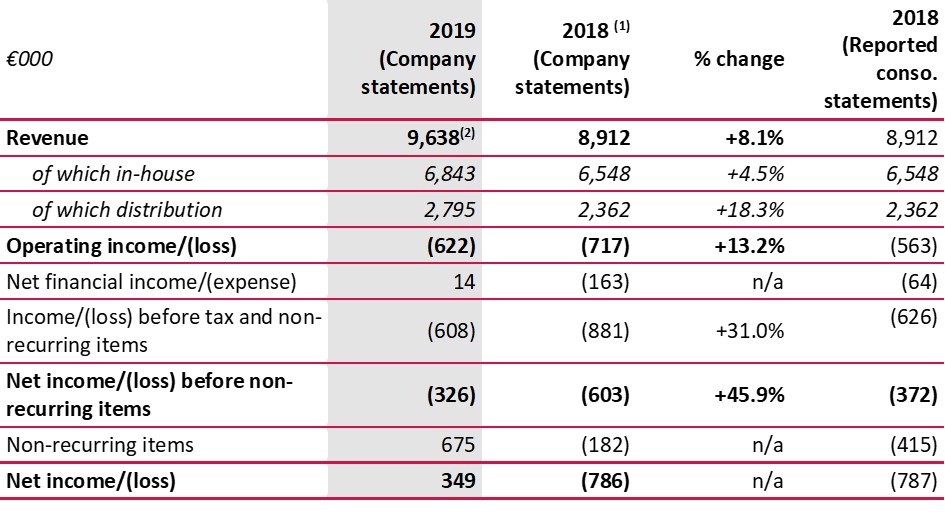 Notes: (1) Theradiag company financial statements for 2018 restated for changes in consolidation, as subsidiary Prestizia is no longer consolidated from 2019. (2) Following the final post-publication audit of revenue on Jan. 30, 2020, revenue was adjusted from €9,647K to €9,638K.
Theradiag CEO Bertrand de Castelnau said: "Theradiag's full-year 2019 results are wholly in line with our expectations. Excluding extraordinary items, full-year earnings have taken a further step towards breakeven, a promising first milestone on the road towards profitability. Innovation remains key to Theradiag's growth and we are very satisfied with our continuous investment in R&D, particularly in theranostics with our new i-Track10® automated analyzer. We still have a number of development objectives to achieve in 2020, particularly overseas in the United States, where we plan to step up our operations. We are delighted to announce a marked improvement in our financial indicators today and we approach the years to come with ambition."
Board chairman Pierre Morgon added: "The priorities for 2019 were clear and the commitment shown by the team in order to achieve them proved productive. The year's result after extraordinary items will allow Theradiag to pursue its development strategy with confidence. The Company has real growth potential and in 2020 we expect to further consolidate our leadership in biotherapy monitoring, in France and in other priority markets."
[…]
Financial calendar:
Annual General Meeting, May 14, 2020
2020 First-Half Revenue, Tuesday July 21, 2020
Upcoming events attended by Theradiag, subject to confirmation:
4 May 2-5, 2020: Digestive Disease Week forum (DDW), Chicago, USA
May 20-24, 2020: 12th International Congress on Autoimmunity, Athens, Greece
June 25-26, 2020: GEAI Colloquium, Paris
June 25-26, 2020: JFHOD 2020 French Hepatogastroenterology and Digestive Oncology Congress, Paris
About Theradiag
Theradiag is the market leader in biotherapy monitoring. Capitalizing on its expertise in the diagnostics market, the Company has been developing, manufacturing and marketing innovative in vitro diagnostic (IVD) tests for over 30 years. 
Theradiag pioneered "theranostics" testing (combining therapy with diagnosis), which measures the efficacy of biotherapy in the treatment of chronic inflammatory diseases. Going beyond mere diagnosis, theranostics aims to help clinicians set up "customized treatment" for each patient. This method favors the individualization of treatment, evaluation of its efficacy and the prevention of drug resistance. In response to this challenge, Theradiag develops and markets the CE-marked TRACKER® range, a comprehensive solution of inestimable medical value.
The Company is based in Marne-la-Vallée, near Paris, has operations in over 70 countries and employs over 60 people. In 2019, the Company posted revenue of €9.6 million. The Theradiag share is listed on Euronext Growth Paris (ISIN: FR0004197747) and is eligible for the French PEA-PME personal equity plan.
For more information about Theradiag, please visit our website: www.theradiag.com
Theradiag

Bertrand de Castelnau

CEO/Managing Director

Tel.: +33 (0)1 64 62 10 12

NewCap

Financial Communications & Investor Relations

Sandrine Boussard-Gallien

Claire Riffaud

Tel.: +33 (0)1 44 71 94 94

NewCap

Media Relations

Nicolas Mérigeau

Tel.: +33 (0)1 44 71 94 98