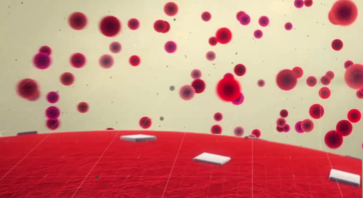 The FIDIS™ system based on the xMAP® technology offers high throughput analysis power. It allows a simultaneous and specific detection of multiple analytes from the same sample in a single assay.  Compared to the conventional IFA or ELISA format, the FIDIS™ technology and its automation on the Theralis™ platform allows the laboratory to perform analysis more rapidly and at lower cost than with conventional kit formats and with optimum reliability.
Theradiag has developed a comprehensive range of commercially available tests developed on xMAP technology for the diagnosis of autoimmune diseases.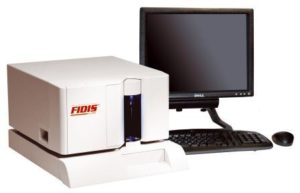 The FIDIS™ technology bases
The FIDIS™ technology is based on the use of uniform sized microspheres of different colours (red to infrared) and on which are bound antigens that will be analysed simultaneously. This technology allows the mesurement of more than 100 analytes per sample in a single well.
The samples are diluted and mixed with the microspheres. Specific antibodies, if present, are bound to the coated antigens. Their revelation is made using a phycoerythrin conjugate.
The samples are analysed using the FIDIS™ flow cytometer. Each analyte is identified using 2 lasers, which allow identifying the coloured signature of each bead and quantifying the ratio of analytes bound to it.
Refer to the Theralis video for a comprehensive explanation of the FIDIS principles.
Solinium™: one and only software for every Theradiag equipement
Equipped with a user friendly and easy-to-use interface, Solinium™ allows analysing and validating results along with batch and history management. The software's connection to the Theralis™ systems and to the SIL allow a total integration of the FIDIS™ system.
FIDIS™ system assets:
Increased productivity
Reduced costs and workloads
More results with less samples
Reliable and reproducible results
Have a look on our
brochure
to discover Fidis reagent portfolio.