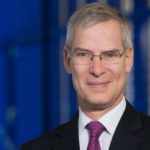 Dear Visitor of our website,
I joined Theradiag with great honour and pleasure.
At Theradiag, we are proud to highlight our specialities and cultivate our uniqueness.
First of all our product portfolio and their innovative character in constant evolution :
Our theranostic leadership is established. We are strongly investing and this year, in 2019, we were able to launch our 12th LISA TRACKER test (double parameters) for the monitoring of biotherapies. And we continue to investigate upstream biotherapies interested in our unique approach, the future introduction of our random access automation will enrich our portfolio of solutions to the testing sites.
Our experience and expertise in auto-immunity. Theradiag has developed a unique solution with quality reagents, adaptable to high volumes.
Our production of quality control lots.
As well as the particularly innovative products we market in France in synergy with our other ranges.
Furthermore our way of operating:
thanks to its start-up culture, its particularly young and dynamic organisation, its R&D efforts and its quality production tools, Theradiag knows how to combine professionalism with agility ; as well as vigorous ambitions.
At last our internationalisation, as Theradiag has a presence in Europe as well as in the USA and Asia: from our headquarter/manufacturing site our kits are shipped worldwide. We look forward to being a global player opening more markets.
On each of these dimensions we are committed with enthusiasm, ourselves as we are convinced of the importance of diagnostics in the overall therapeutic chain, Theradiag products can add value both in the clinical decision as well as from the pharmaco economic point of view.
I would like to thank for their support:
Our shareholders, who are following us with patience and whose advices are valuable.
Our staff whose energy and skills are essential for Theradiag's future.
And all our customers, the opinion leaders helping us to build this innovative approach, the clinicians prescribing our products, the analytical labs using our kits, but also the pharmaceutical companies sharing our interest toward the patient.
For Theradiag, the patient is part of our main concern and we are happy to contribute humbly to the improvement of his therapy.
We are committed to communicate on our progress to you regularly: don't hesitate to follow us and contact us!
Bertrand de Castelnau